Last night I was lucky enough to find myself in the boardroom at Brunton Park. OK, so it's not Old Trafford (although Michael Knighton's great vision in the nineties might have meant otherwise) but it was enjoyable nonetheless.
Carlisle United were up against Oldham Athletic and were aiming to recover from an embarrassing weekend defeat at home to Brentford. Their line up included two former Stokies.
One, Richard Keogh, never made a first team appearance for the Potters (although he was an unused substitute in a cup tie against Bournemouth). He was dealt the task of keeping Oldham's front pairing of Darren Byfield and Chris O'Grady quiet. It wasn't difficult- they were about as useful as a sack of potatoes. However, Keogh stuck to his job well and performed admirably alongside Danny Livesey in the heart of the defence.
If Keogh's career had gone to plan, he may well have been appearing at the Britannia this coming Saturday. It was announced that the youngster had left Stoke for Burnley back in 2005. However, he eventually turned his back on Cotterill (anyone who does that deserves thumbs up) and instead joined Bristol City.
This is Keogh's second full season at Carlisle and he seems to have
settled in.
The other ex-Potter was a certain Graham Kavanagh. Kav joined Stoke way back in 1996 after a successful loan spell from Middlesbrough. Even then he had grey hair!! He forged a decent career at Stoke, making his Republic of Ireland debut and putting in a man of the match performance at Wembley in the 2000 Auto Windscreens Shield victory.
However, his move to Cardiff a year later left a bitter taste in Stoke supporters mouths. Slagging off the club was never a wise move and he has quite rightly been booed every time he has returned to play against the red and white stripes.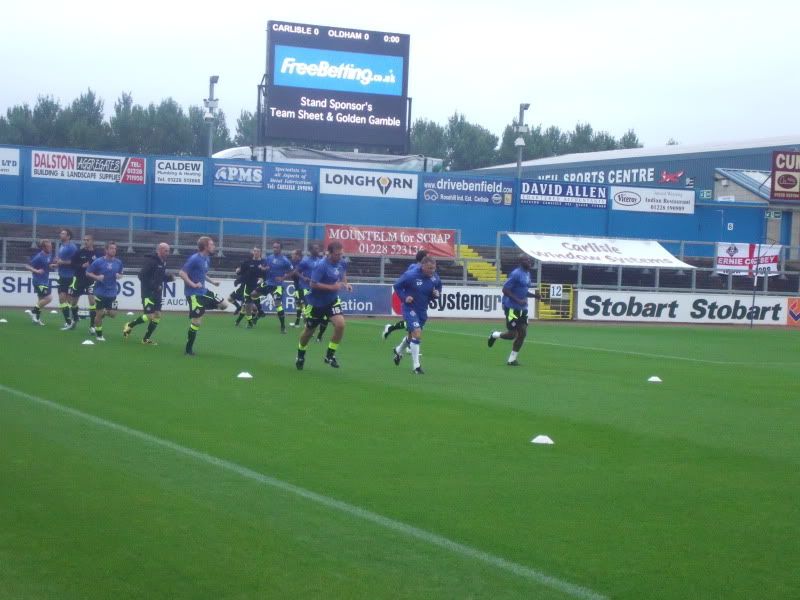 After spells at Wigan, Sunderland and Sheffield Wednesday, Kavanagh joined Carlisle as player coach earlier this year. Last night he bossed the midfield- doing the simple things, while only being denied a goal by the outstretched leg of Sean Gregan. Kav also showed great experience by professionally hauling down Jon Worthington just as Oldham were about to race through to goal. He booked for his troubles.
For the record, Carlisle triumphed 1-0 thanks to a late Scott Dobie goal, the fella who is about the only lad to score a winning goal for West Brom against Stoke in recent memory.
So, the first two ex-Potters have been featured. Who will be next?